Products and Services
We Provide Answers that Drive Your Business Forward
Most companies are committed to collecting customer and sales information. But few know how to analyze this information and extract profit from it. This is Stics' core expertise.
After working with us, you will know who your best customers are and how to find more like them. You will be able to market more effectively and you will be able to deploy your resources to the best possible advantage. Our professionals can even integrate customized decision-making tools into your existing vertical applications.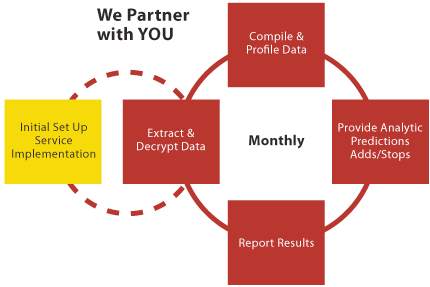 Deep Data Analysis
We apply analytics to your company's many sources of information, looking for insight leading to revenue growth. Our goal is providing you with unparalleled business tools, allowing you optimal decisions, effective deployment of resources, and efficient processes.
Maximize Profit
Stics unlocks the power of your information to maximize profits and cultivate customer loyalty. Through an array of advanced analytical techniques, our professionals transform your data from a collection of individual facts and figures into actionable information that brings insight to customer behavior.
Stics professionals find new business opportunities where you didn't know they existed. We deliver opportunities for cost savings, incremental revenue, higher profits, and increased customer satisfaction and retention.
Marketing Optimization: For Greater ROI
Our direct-marketing optimization solutions turn cumbersome data into actionable information, helping our clients increase revenue and campaign profitability with an average ROI of ten times their investment. Our solutions simplify the process of understanding customer behavior and empower our clients to more accurately predict and rank customer value.
Stics Solutions Add Value to Your Marketing Programs
High ROI – 10X monthly
No capital expenditures
Fast and easy implementation
No IT support required
We adapt to our clients marketing process – no big changes required
Years of industry expertise
We offer an easy to implement Software-as-a-Service (SaaS) model  dramatically accelerating implementation time to about six weeks. Stics also eliminates many of the costs associated with licensed software products.
Predictive Analytics the Gaming Industry Advantage
Increase Revenue & Profitability with Deeper Customer Insight from Stics

With Stics Predictive Analytics, you can better focus your marketing to cost-effectively identify, target, and build loyalty from your most profitable customers. We specialize in the casino and hospitality industry and our objective is to help you increase revenue and profitability by optimizing your customer data.
Wouldn't You Like to Know
Who are your best customers?
What are their expected behaviors?

Number of visits
Predicted value (average daily worth or profitability)
Reinvestment rates
Probability of responding to an offer

How can you more effectively match offers to the right customers?
While gaming establishments collect mountains of customer data― unfortunately, most properties still don't have reliable answers to these and other important questions that can help generate new revenue.
These answers require the right statistical software tools, analytical processes, industry expertise and doctorate level staff to effectively optimize customer data for revenue generation.
Stics Has the Answers
Stics Predictive Analytics adds a valuable layer of actionable insight over your data. Stics is more than software. We combine consulting from Ph.D. level economists and statisticians with analytics delivered through a cost-effective Software-as-a-Service (SaaS) model.
Using the data in your existing databases and Stics Predictive Analytics, you can:
Employ robust predictive analytics without taxing your in-house resources
Simultaneously evaluate multiple data sources and formats
Dramatically increase the usefulness of your information databases
Make better informed business decisions
Allocate your marketing resources to higher value initiatives
Increase return on investment (ROI)
Turn your customer data into new revenue, with Stics Predictive Analytics.
Call Today 877-847-8427