Custom Predictive Analytics
SaaS the Most Cost Effective Software Delivery Model
Our solutions do more than help you make money; they help you save it, too!
By leveraging highly efficient Software as a Service (SaaS) delivery, Stics provides marketing and business operational departments' access to our data analysis results at a fraction of the cost of comparable, traditional, premise-based software products. With Stics, we maximize your efficiency, reduce your IT support requirements, and provide you a higher level of client service.
Subscription Service Advantages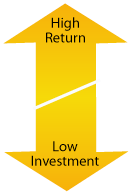 No hardware or servers to buy
Minimal IT support required
No additional staff required
24/7 Access to information
No additional marketing staff required
Another advantage to our SaaS-based model is product enhancements are automatically made available on an on-going basis, so you are always on the current solution. With Stics, you never have to wait for your resources to come together before you can benefit from our innovations. And, we deliver them at no additional cost.
Rapid Implementation
Our SaaS-based applications have even more benefits, including rapid implementation. With Stics, you can receive the benefits of our solutions in as little as six weeks.
Live in 4 to 6 weeks
Requires no support
Generates fast ROI
SaaS-based delivery eliminates many of the typical implementation tasks and costs associated with licensed software. Implementation and training time tends to be much shorter with our service, because our software is already up and running in the Stics' data center.
Predictive Analytics the Gaming Industry Advantage
Increase Revenue & Profitability with Deeper Customer Insight from Stics

With Stics Predictive Analytics, you can better focus your marketing to cost-effectively identify, target, and build loyalty from your most profitable customers. We specialize in the casino and hospitality industry and our objective is to help you increase revenue and profitability by optimizing your customer data.
Wouldn't You Like to Know
Who are your best customers?
What are their expected behaviors?

Number of visits
Predicted value (average daily worth or profitability)
Reinvestment rates
Probability of responding to an offer

How can you more effectively match offers to the right customers?
While gaming establishments collect mountains of customer data― unfortunately, most properties still don't have reliable answers to these and other important questions that can help generate new revenue.
These answers require the right statistical software tools, analytical processes, industry expertise and doctorate level staff to effectively optimize customer data for revenue generation.
Stics Has the Answers
Stics Predictive Analytics adds a valuable layer of actionable insight over your data. Stics is more than software. We combine consulting from Ph.D. level economists and statisticians with analytics delivered through a cost-effective Software-as-a-Service (SaaS) model.
Using the data in your existing databases and Stics Predictive Analytics, you can:
Employ robust predictive analytics without taxing your in-house resources
Simultaneously evaluate multiple data sources and formats
Dramatically increase the usefulness of your information databases
Make better informed business decisions
Allocate your marketing resources to higher value initiatives
Increase return on investment (ROI)
Turn your customer data into new revenue, with Stics Predictive Analytics.
Call Today 877-847-8427